Hani Haring est née à Tahiti et a grandi à Moorea dans les valeurs polynésiennes. Ainsi la danse et la confection des costumes traditionnels, mais aussi l'artisanat local ont toujours suscités son attention.
A l'âge de 18 ans, elle participe et remporte deux années de suite le concours de créateurs « Vahine Tahiti ». Cette première expérience dans la mode la pousse à poursuivre ses études à l'Institut Supérieur des Arts Appliqués de Paris.
Découvrir Paris durant 5 ans fût une expérience inoubliable pour la jeune créatrice, et ce choc de culture a été inévitablement inspirant et formateur.
La jeune diplômée eu la chance de côtoyer des maisons de couture telles que Maxime Simoëns et Jean-Charles de Castelbajac, qui fût et est toujours une réelle source d'inspiration.
HH Créations voit le jour le 11 novembre 2011 et propose des lignes de prêt-à-porter artisanales, pensées et réalisées exclusivement sur Moorea.
Début 2013, HH Créations s'associe au directeur artistique Benjamin Schétrit pour installer la première maison de couture basée à Moorea, et créer à quatre mains une mode confortable, chic et à l'inspiration polynésienne.
Hani Haring is born in Tahiti and raised in Moorea with Polynesian values. Dancing and making traditional costumes, as well as local crafts, have always aroused her attention.
At age 18, she participated and won two consecutive years the creators contest « Vahine Tahiti. » This first experience in fashion encouraged her to continue her studies at the Higher Institute of Applied Arts in Paris.
Discovering Paris during 5 years was an unforgettable experience for the young designer. The culture shock was inevitable, as much as an inspiring formator.
The young graduated had the chance to rub shoulders with fashion houses such as Maxime Simoens and Jean-Charles de Castelbajac, who were and still are a real source of inspiration.
HH Creations was born on November 11, 2011 and offers lines of ready-made crafts, thought up and made exclusively on Moorea.
Early 2013, HH Creations joins the artistic director Benjamin Schétrit to install the first fashion house in Moorea, creating with their hands a fashion not only chic and comfortable, but Polynesian inspired.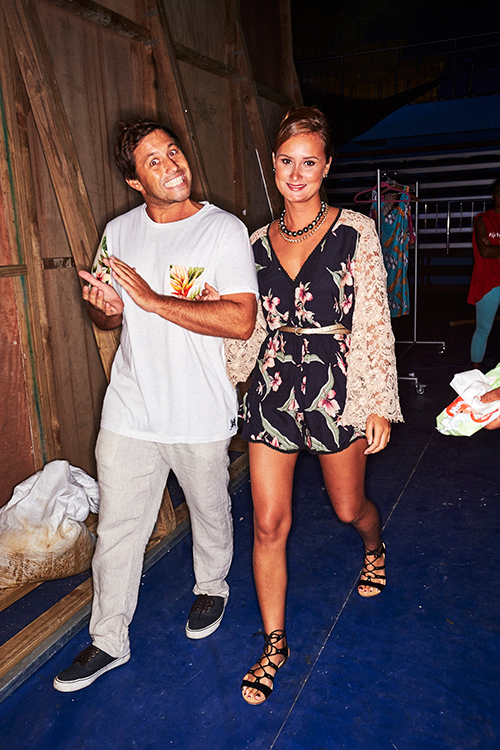 Benjamin Schétrit a passé son enfance à parcourir le monde avec ses parents. Il pose ses valises à Moorea en 2000.
Ayant suivi une formation en arts plastiques depuis les années collège, Benjamin poursuit ses études en arts appliqués, communication et design à Bordeaux, tout en participant aux compétitions européennes de surf.
Ces années passées à surfer tout en poursuivant ses études lui ont ouvert les portes de studio de création de plusieurs marques de surfwear internationales. Benjamin fait alors ses armes en tant que graphiste/styliste et se voit donner des projets de plus en plus conséquents, jusqu'à dessiner et suivre la production de collection complète à l'échelle mondiale.
En 2007 il rentre définitivement sur son île d'adoption qu'est Moorea et travaille alors pendant 4 ans en tant que freelance pour une agence de communication de la place, tout en continuant à être styliste pour différentes marques.
Fin 2012, il s'associe à Hani Haring et montent ensemble la première maison de couture sur Moorea.
Benjamin Schétrit passed his childhood to travel the world with his parents.
He poses his bags in Moorea in 2000.
Having followed a training in visual arts since young age, Benjamin continues his studies in applied arts, communication and design in Bordeaux, while taking part in professional european surf circuit.
These last years with surfing while continuing his studies opened to him the doors of studio of creation of several international brands of surfwear.
Benjamin then begins his career as a graphic designer/stylist and sees himself giving increasingly consequent projects, until drawing and following production line for world market.
In 2007 he returns definitively on his island of adoption which is Moorea and works then during 4 years as a freelance for an agency of communication, while continuing to be a designer for various brands.
At the end of 2012, it joins to Hani Haring and assemble together the first designer house in Moorea.